In the last 10 years, Peru has been recognized as one of the world's best culinary destinations. Aka, Peruvian food is one of the best. There are so many typical dishes you can try when you are in Peru. The country's gastronomic boom owes a great deal to its biodiversity and its multicultural heritage. In this article, we give you some of the reasons why there's no better place in the world to visit as a foodie.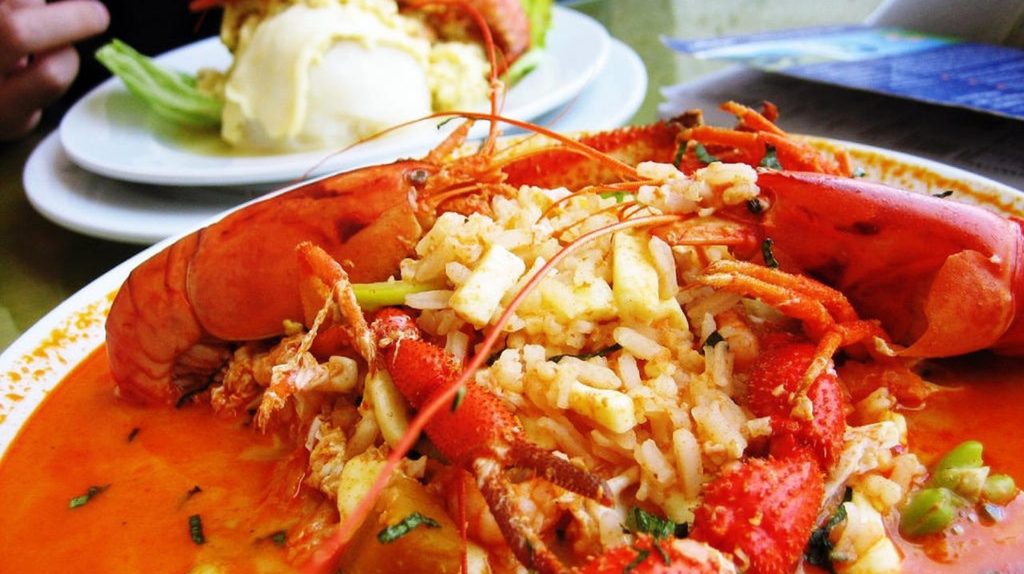 Let's start with the typical Peruvian dishes before we get to the regional cuisine of Cusco. Peruvian food is famous for its texture, flavor and ingredients that make up each recipe. Maybe you have already heard of some of these plates. However, in this rich gastronomy it is a challenge to try everything you can! 🍴
5 Typical Peruvian dishes
Ceviche
One of the unmissable culinary dishes in Peru is the famous ceviche, it is a very typical dish from the northern coast of Peru. You will typically find this dish in places such as Piura, Lima, Lambayeque, Tumbes and La Libertad. This exquisite plate is part of a fusion of cultures, and over the years different versions are created. However, the most recognized are the mixed ceviche, fish ceviche and black shell ceviche. Fun fact: It is also considered one of the aphrodisiac dishes of Peru.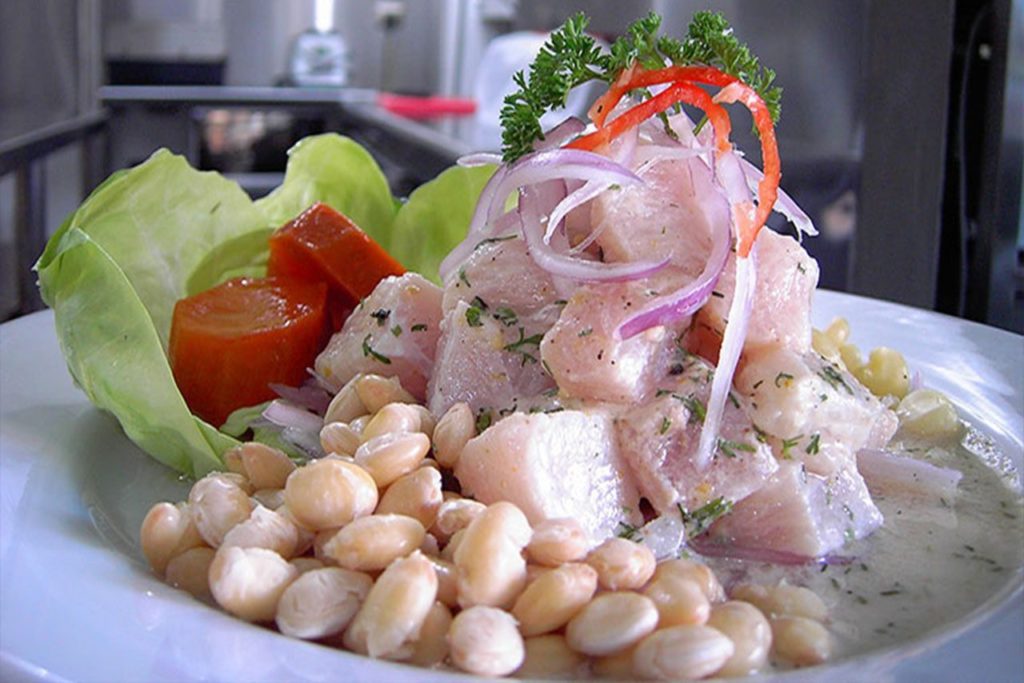 Causa Rellena
Causa a la limeña, causa limeña or simply causa, is a typical Peruvian dish that has a pre-Columbian origin. This dish is very popular in the capital, Lima. Causa is made with yellow potato, accompanied with layers of egg, olive, tuna or shredded chicken. A simple but very tasty culinary meal.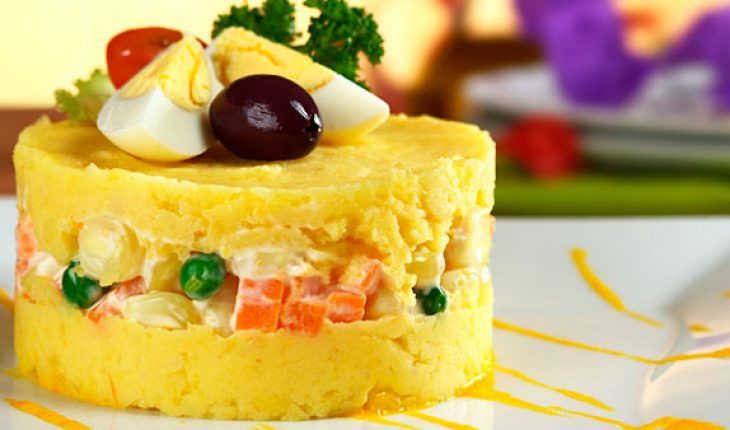 Ají de Gallina
Aji de gallina is a dish that enchants anyone who tries it. It is a native Peruvian dish with a creamy texture that is made of shredded chicken pieces, accompanied by a portion of white rice, a boiled egg and olives. This dish is so typically Peruvian that you can't miss it.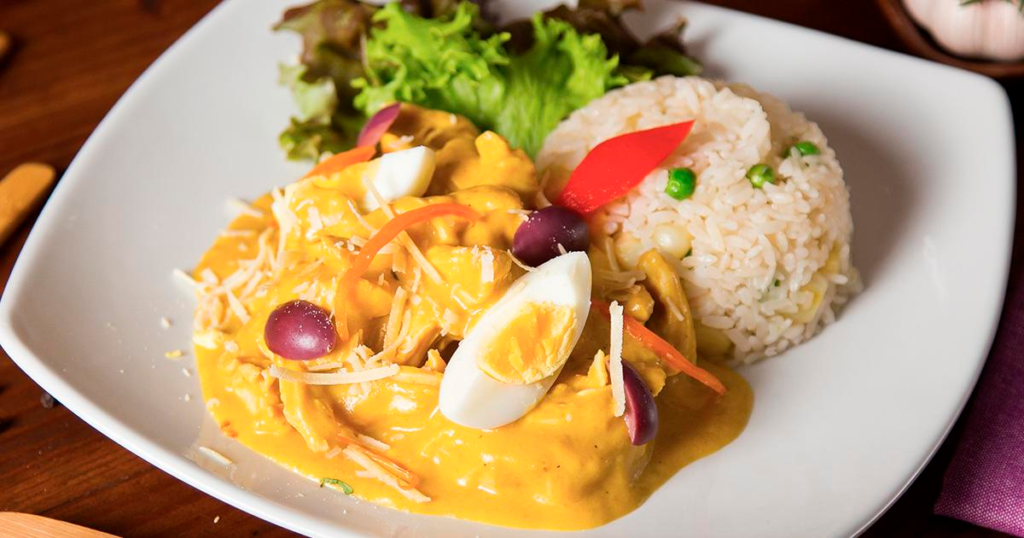 Anticuchos
It is impossible not to try this delicacy when you visit Peru. There are different variations on anticuchos but the original one is made with beef heart and seasoned in aji panca. After that, the anticuchos are strung on a stick to grill them. The meal generally is accompanied by potatoes on the grill or a delicious choclo "Peruvian corn". You enjoy this dish with a chicha morada or chicha de jora. You can request how you want the meat prepared. If it is your first time, we recommend you to request medium to well done.
You can find this dish in a Peruvian restaurant or at a small foodcourt on the street. Everyone loves anticuchos! 😍
Lomo Saltado
One of our favourites! This peculiar gastronomic dish is a fusion of Peruvian and Chinese cuisine. It contains a delicious beef sautéed with vegetables, its rich fried potato and inevitably, white rice.
Over the years, different variations were created. You can also try Pollo Saltado, with chicken, or Saltados with fish.
If you prefer to cook yourself, you should take a look at our Uni Student's Peruvian Cookbook. You can become a star in cooking Peruvian food. 👨‍🍳
5 Typical dishes from Cusco
Next, of course, you want to get to know some typical plates from the Cusco Region. Cusco has an exquisite gastronomy to taste with a selection of very varied dishes typical of the area. Get your mouth watering with these 5 typical plates.
Chiri Uchu
In the gastronomy of Cusco, there is a representative dish that is well known by the local people called Chiri Uchu, which means "cold chili" in Quechua. It is a delicious dish that is consumed in various festivals in Cusco. You might for example eat it in the Corpus Christi, in the month of June and also in the Inti Raymi "Festival of the Sun". This dish is a mixture of meat from guinea pig, boiled chicken, chalona (cured meat), trout eggs, cochayuyo or seaweed, sausage, grilled corn, serrano cheese, chorizo and rocoto.
Chiri Uchu is served cold on a single plate and for some maybe difficult to eat. Some prefer to eat with cutlery others just want to use their hands to taste this varied stew. It is said, that the trick is to combine all the flavors at once, which will give you a greater culinary experience.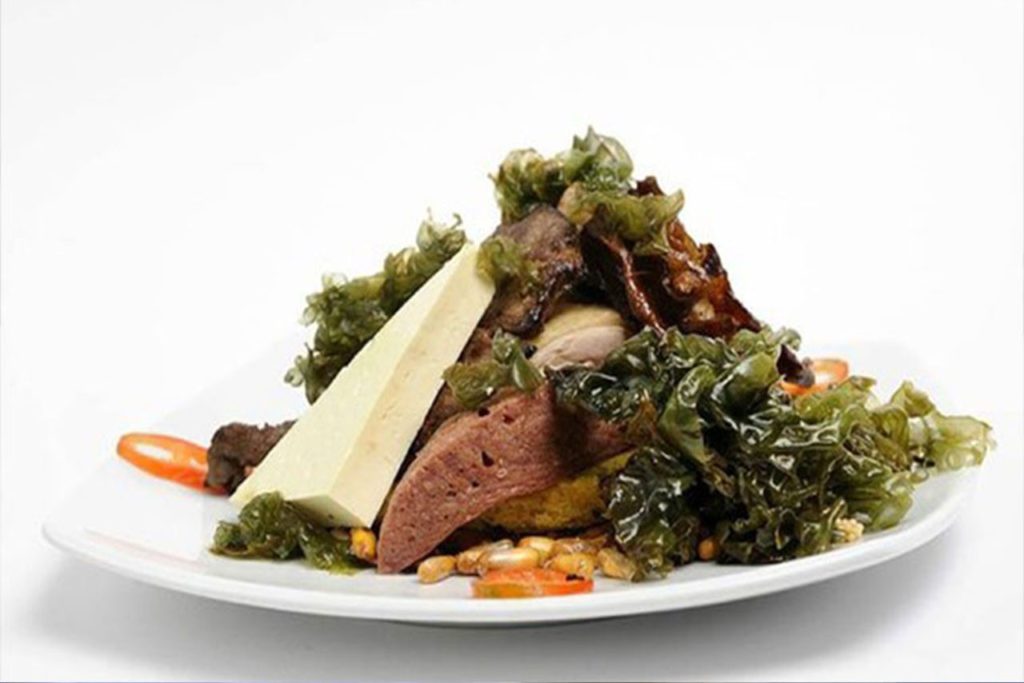 Puchero
A delicious dish served at carnival time, in February. This mouth-watering plate contains diverse meats, accompanied with vegetables, potatoes, moraya (Peruvian potato), chickpea, yucca, sweet potato, pear, peach and rice. I guess you could say it is a very varied dish. And you can accompany it with the drink you like best. Inka Cola for example. 🤷‍♀️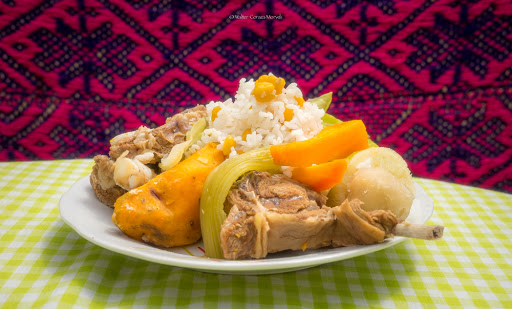 Rocoto Relleno
There is no doubt that Cusco's creativity shines in this delicious gastronomic dish. Rocoto Relleno is literally picture perfect. It is made with rocoto accompanied by chopped vegetables and delicious beef and it is also covered with a delicious crunchy mace which you can enjoy for a starter. Inside, you will, of course, find the delicious Serrano potato. All this together, makes it a typical dish of the region for all palates.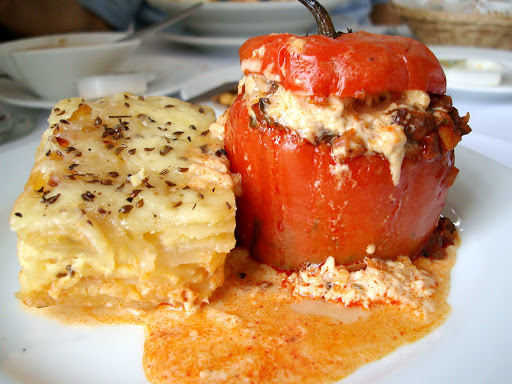 Cuy al horno
Although it might seem a little odd to you, cuy is a very nutritious dish typical in Cusco and Arequipa. This gastronomic meal is most common in the Andean zones of Peru. This delicacy is prepared in the oven and accompanied with boiled potatoes and a fresh salad. Obviously the guinea pig goes through different seasonings, to be served as a juicy treat. Just taste it!
Chicharron
Chicharron is a delicacy that contains pork meat cut into pieces and then browned in oil. A dish accompanied by slices of fried potatoes, salad, corn, beans. To finish it off, it is topped with the inevitable chili or "uchucuta", in Quechua.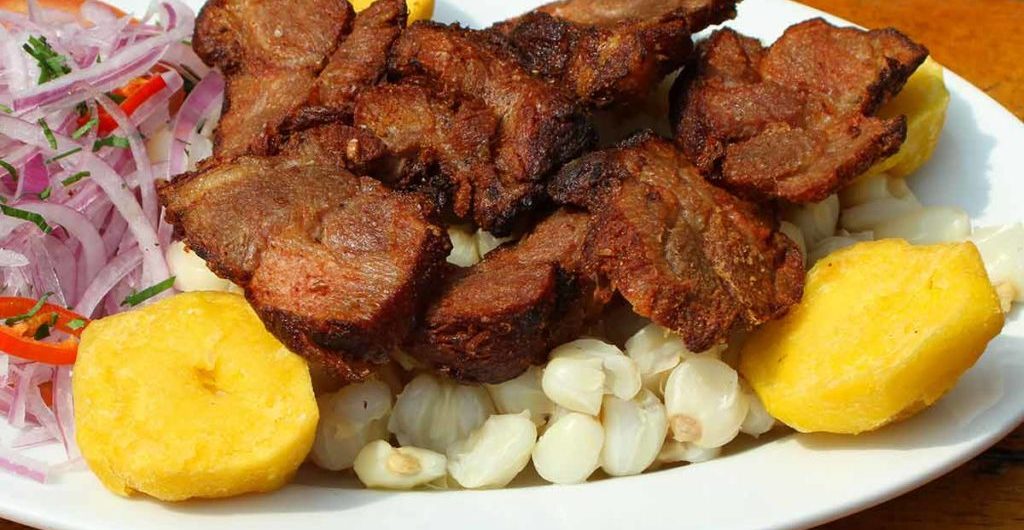 Are you interested in learning the Spanish language and exploring Cusco meanwhile? Proyecto Peru offers affordable Spanish lessons for travellers who wish to immerse in the local culture.
Article translated and edited from Paquetes de Viajes Peru.