Meet Jessica Heintz, one of our last medical volunteers that donated her time and work at one of our projects!
¡Hola! I am a Jessica, a 28-year-old American who values service work and traveling. I also happen to be a medical student in my fourth and final year of medical school. Given my passion for volunteering and travel, I desired to do an international medical service rotation in Peru before graduating. Proyecto Peru provided medical volunteer placements in the stunning Peruvian city of Cusco, plus the ability to live with a host family. As such, it was an easy decision to commit to volunteering with Proyecto Peru for four weeks in February 2019.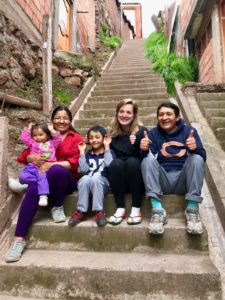 Volunteering provided structure and purpose to my time in Peru. My medical volunteer placement through Proyecto Peru was a local public health clinic in Cusco. I spent the weeks shadowing and working alongside Peruvian physicians doing either annual exams, sick-visits, or ultrasounds for patients. It helped me learn the nuances of the Spanish language in a medical setting, and I got to witness the Peruvian healthcare system in action. It was a pleasure meeting both patients and staff.
My Spanish level was advanced but rusty when I arrived in Peru so I chose to pursue private Spanish lessons offered through Proyecto Peru. My teacher, Luz, reviewed advanced grammar with me and promoted my fluidity in speaking. Our conversations in class not only improved my Spanish but also helped me better understand Peruvian culture. As a medical professional hoping to speak Spanish with my future patients, my Spanish lessons through Proyecto Peru increased my confidence and comfort level with the language.
For my housing, I elected to stay with a host family provided by Proyecto Peru. To begin, living with a host family is awesome because you will get to experience so much of the local cuisine! My host family was incredibly kind, loving, and caring. Some of my favorite memories occurred with them, such as making pisco sours or going out to try guinea pig at a restaurant for locals. It was impossible not to bond with my host family even during my four short weeks in Peru, and I look forward to keeping in touch with them.
Finally, I was thrilled to find so much community within the Proyecto Peru group. Proyecto Peru organizes a weekly activity, which is an excellent chance to meet other volunteers from all over the world. During my time in Cusco, we did pub trivia, salsa lessons, and karaoke. Each activity night was very fun and helped foster new friendships. It was a blessing to spend time with the amazing and interesting group of people that Proyecto Peru attracts.
Between my volunteer placement, Spanish lessons, host family, and the weekly activity, volunteering with Proyecto Peru made my time in Cusco unforgettable. Thank you!