Let's get to know our volunteers a little more. Meet Linda(18) and Hannah(18) from Germany. They arrived in Cusco 3 months ago after doing some volunteering work in Zanzibar. How cool right? 😲
Currently, they are volunteering at a school in Cusco with Proyecto Peru. They are working in Childcare as teachers and helping with activities for the kids. Do you want to get to know more about their experience in Cusco? Keep reading.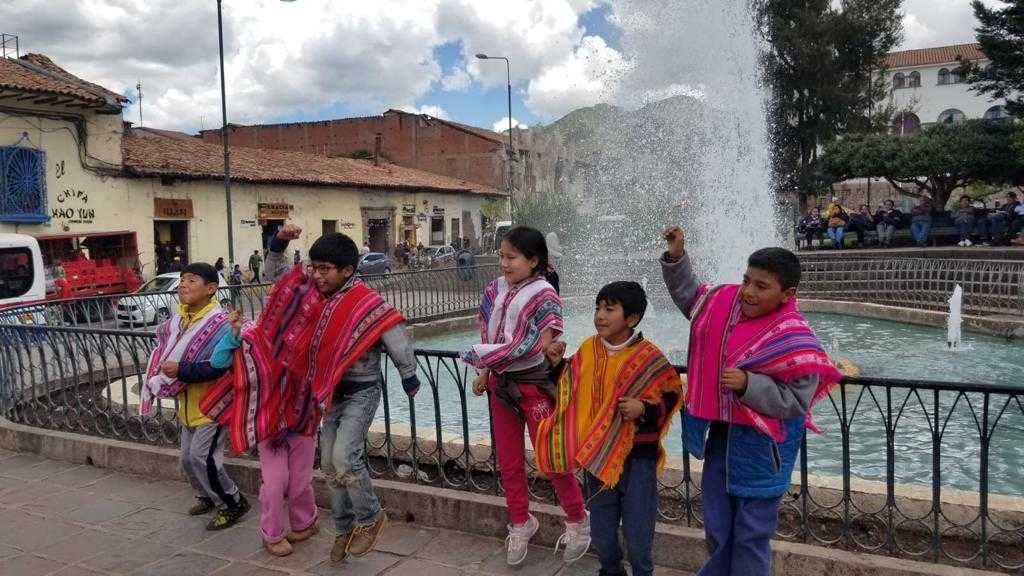 Preparing for your volunteering experience in Cusco? Here are 10 tips to help you get started.
Why Peru?
We had just finished high school and wanted to get new experiences after our graduation, so we decided to plan a gap year to travel and do some good. Furthermore, we wanted to improve our Spanish. We were told that Colombia and Peru are the best places in South-America to study Spanish, we needn't think about that choice for long. Apart from just travelling, we wanted to do something good and help other people especially children. That's why we wanted to work in Childcare in Zanzibar and in Peru.
Peru is a diverse country. Here you can go to the beach, climb up the mountains, go to the desert, the Amazon and see the beautiful nature (many stunning lakes!). Especially Cusco is a city where you can make many trips. From Cusco we went to Machu Picchu, Rainbow Mountains and various other hikes. Or you can also take the bus to other Peruvian cities like Arequipa, Ica or Puno. You can even go to other countries like Bolivia, which is just two hours from Puno.
This was our first time in Peru and we were very excited to visit this country! Before our project started we took advantage of the time to travel and improve our Spanish, so we could be of more help at the project. Before we started at our project, we took 4 weeks of Spanish courses with Proyecto Peru to freshen up. We already learned Spanish in school for 3 years but took these extra courses to refresh and improve our Spanish. In the Spanish class it was just the two of us, so we could practice a lot.
We also took advantage to travel, our first trip was to the Rainbow Mountains, close to Cusco. The hike is short, just 3 kilometers, but because of the altitude it was pretty hard and took us 1 1/2 hours for one way. Our second and most exciting trip was the Salkantay Trek to Machu Picchu. This trek took us five days but we were accompanied by our friends, which made it bearable. There are many possibilities to go to Machu Picchu but we decided to hike there because you can see more of Peru's beautiful landscape. Furthermore we went to Arequipa, Puno and Huacachina by bus during the weekends.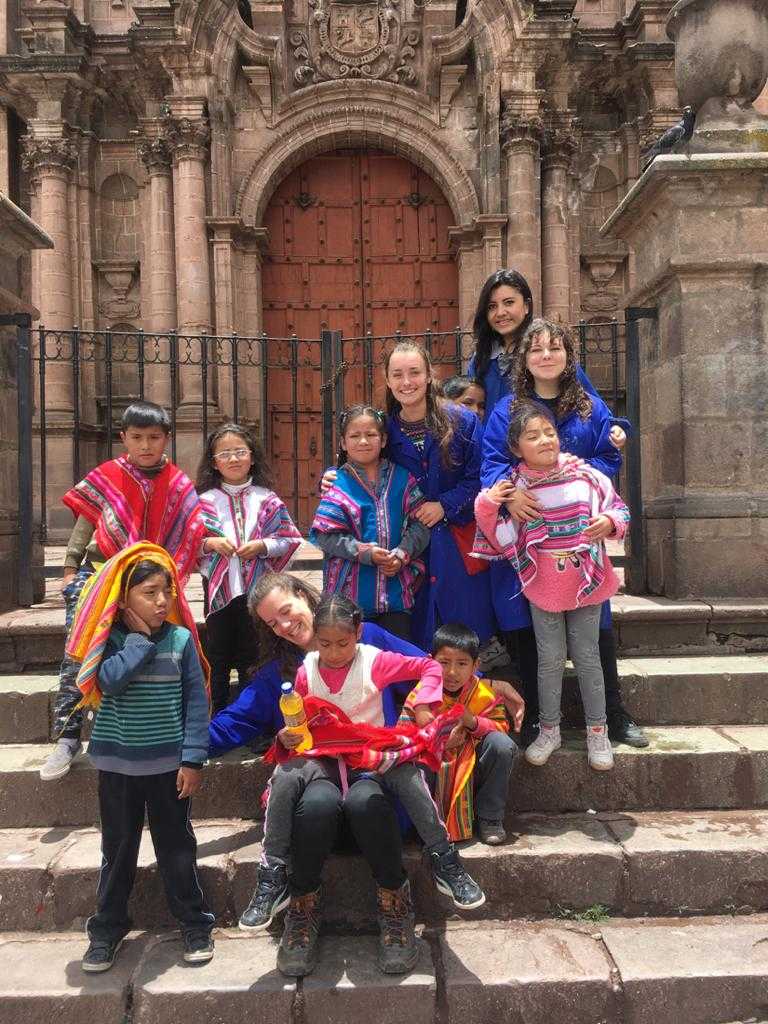 What do you do at the project?
During the last 3 months, we have been working in a school with children who are between 5 and 16 years old. At the moment they are on holidays so its mostly day care.
It is a project where only volunteers work, we were the teachers. In the morning there are workshops which take 2 hours. These includes activities like: dancing, art, games, computer, teaching the younger kids, teaching the older kids and the English workshop.
After these 2 hours, there is a 30 minutes break. The kids can eat their lunch they brought from home, buy some food in a little store close to the project or a meal at the project for 1 sol.
After the break all kids come together to the "Circle of Love" where all the kids and volunteers sing together. Apart from that, they have the tradition that the kids can say how they feel and what they are thankful for. After all this, children form groups – families – which are small groups of 5-10 kids who have the same age. Every week we get a topic which we have to talk about in the families and prepare something about this topic. Think of a short play, a song or a colorful poster.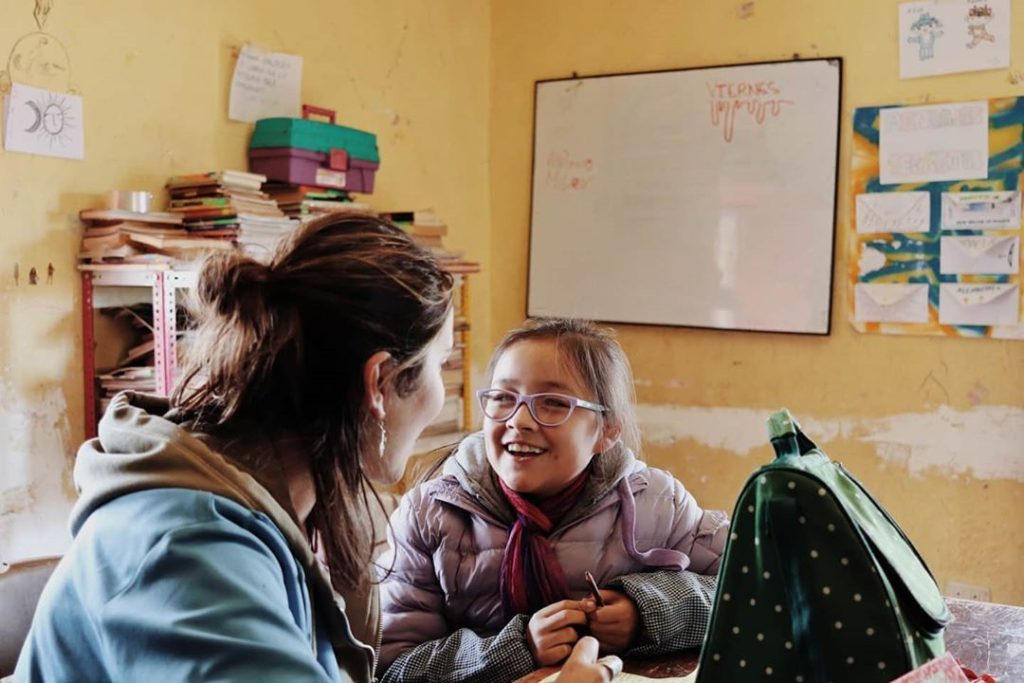 Volunteering needs to feel valuable. We think it depends on the organization/project where you do the volunteering. There are many organizations who lose sight of the original reason of volunteering and there are projects where you can not really help. Volunteering in Cusco with Proyecto Peru, we actually saw them bringing by donations and that is a good thing to see.
There are definitely good organizations and projects which focus on the main point of volunteering: helping others. In our project we definitely felt like we were much-needed because there are only volunteers who teach the children. In this project, we really felt like we were adding value and that was for us was one of the goals of volunteering as well.
Interested in reading more stories? Read the story of Jessica, a medical student, who has been working as a medical volunteer in Cusco!
What did volunteering in Cusco do with you?
Linda: In my gap year I learned to be more thankful for the things I have in my life. I have seen so many children who had almost nothing and they were so happy about just every small thing they got. Furthermore, I learned to be more economical and pay attention to my surroundings as well as other people. So I think, this experience as a volunteer taught me a lot and it has shown me different cultures and different ways of living.
Hannah: Volunteering definitely changed me. I improved my Spanish a lot. I think the best way to learn a foreign language is to immerse in it and be surrounded by it. If you are in Peru, you have to actually speak Spanish as well. The atmosphere in the project was very different as it is in German schools. The ambiance was more affectionate so you had the feeling to be part of a family. Of course I got to know the Peruvian culture pretty well which, in my opinion, I would not have been able to without coming here.
Any tips for future volunteers coming to Cusco?
There is only one thing we can think of: BRING WARM CLOTHES! When the sun is shining it can be really sharp but it can cool down in the evening and on cloudy days.
Any plans for when you leave Cusco?
Linda: When I am back in Germany I will start studying for my Bachelors degree. I am thinking about becoming a teacher at primary school. I already was thinking about this before as well. This experience volunteering with the children in Peru has only shown me that that's in fact what I want to do.
Hannah: I will probably start studying in September as well. During the gap year, I noticed that I love to get to know other cultures so I will definitely continue travelling as much as I can meanwhile. As for what I am going to study… I don't know yet. 😁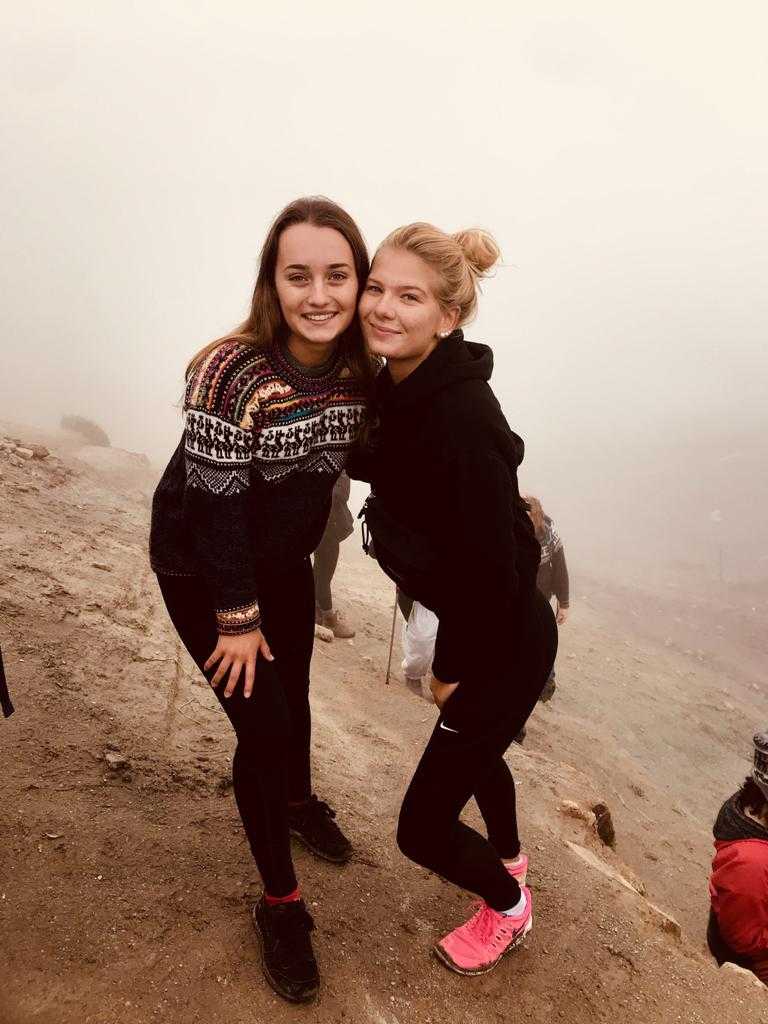 Proyecto Peru is a Spanish School and Volunteer Center in the historic center of Cusco. We offer responsible volunteering for all travelers. Visit our website and find a project that suits you!